Hi



Welcome to the 2009 edition of essential-oil-goddess.com e-zine which aims to provide you with fun and interesting information about using essential oils in everyday life.

Essential Bliss is dedicated to assisting you with your essential oil and aromatherapy questions.

It's a New Year and many resolutions have been made. Essential oils may boost your new year's resolution by assisting with focus, motivation, and removing emotional blocks. This month's article will focus on just that.

Also, you may have noticed a new logo for Essential Oil Goddess - inspired by Yemanya, Brazilian goddess of the ocean. Yemanya inspires change and "like the ocean, life moves in waves and tides."

I would love to hear what you think about the new logo - drop me a line and let me know what you think. Soon you will see it on the website (and everything else too!)

And of course, this month's "Bliss" oil - sandalwood - one of my favourites.

Again, I am offering a very special New Year emotional clearing bonus for Essential Bliss readers, read on for more details!

I hope you enjoy this issue of Essential Bliss, I welcome your feedback! Please contact me if you have any questions or comments. Your feedback will inspire the content for future issues. If there is anything specific you would like me to answer or cover in future e-zines please let me know.

Wishing you a blissful and exciting 2009!

Jen

Essential Oil Goddess

PS. Watch out for the Bayside Star local Newspaper, 12 January 2009 edition (you can get a copy online) for an article about Raindrop Technique featuring me, Essential Oil Goddess.

PLEASE NOTE: For an easy-to-view version of this newsletter, or past issues, please visit the essential-oil-goddess.com Backissues Page.
---
Relax...Release...Replenish
As a qualified counsellor and aromatherapist, I am here to help with issues that are preventing you from moving forward in 2009.

If you feel ready to work with these issues many people report feeling "emotionally lighter" after a session.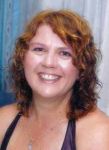 If you...
want to get to core issues quickly and gently
need someone who will understand what you need, whether it is mind, body or soul, and use this as the basis for the session
are looking for a gentle process using a range of therapies
want to take home some strategies you can use to move forward in your life
have physical symptoms and are not sure if there are underlying emotional issues
...then working me, a qualified counsellor and aromatherapist may be just what you need.
---
This Month's Exclusive Offer...
Exclusive to Essential Bliss readers, I am offering 25 percent off your first Emotional Clearing Technique. This may be the change you are looking for.

For more information about this service or other services I offer click here.

This offer is for Essential Bliss readers only.

Offer expires: 1 February 2009

To book: Please call Jen on 0401 089 233 or please use this contact page.

Pssst, you must mention the password "Harmony" to receive this offer.
---
Gift Vouchers are Ideal for any Occassion
Gift Vouchers are available by clicking here to give a blissful and unique present for birthday or any other occassion.
---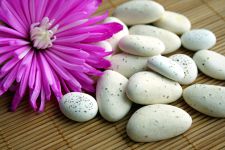 Feature Article...
Boost Your New Year's Resolution with Essential Oils
Happy New Year 2009! There is so much excitment in the first few days of a New Year. It is a time when you may see family and friends, spend time with loved ones and think about the year ahead.

Sometimes, holiday time brings back old and unhelpful thoughts. The year ahead can seem daunting. We are hearing so much doom and gloom, it is difficult to focus on what we really want without fear being a block.

Spend some quiet time focussing on what you really want for the year ahead and use the following oils to support your journey.

Essential Oils for Focus, Motivation for Change and Moving Forward

Sandalwood

Lemon

Ylang Ylang

Roman Chamomile

Lavender

Cypress

Cedarwood

Bergamot

Read below for more details about the "Bliss" Oil of the Month...Sandalwood.

Seven Ways to Change the Way You Think in 2009...

1. Intuitively choose one of the oils above to diffuse for at least thirty minutes a day. You will be drawn to one oil more than the others, this is the one to focus on. If you really love the smell or really hate the smell you really need it :) If you are indifferent it may not be an important oil for you at the moment.

2. Rubbing lavender oil on the feet or palms may cause a calming effect on the body and help with sleep. Think about your dreams and use a dream journal to record and review them.

3. Add 1 drop of lemon therapeutic grade essential oil to a glass of filtered water and drink for an instant pick-me-up.

4. A drop of Ylang Ylang on the heart chakra may bring joy to the day when used first thing in the morning.

5. When negative thoughts start to overpower think to yourself "that is an interesting thought," then observe the thought and where in the body it originates. Annoint the area with sandalwood essential oil.

6. Inhale cedarwood or cypress when feeling negative and ask yourself "what is really important?" or "what matters?"

7. Think about a New Year's resolution you have made. Mix one drop each of sandalwood oil, lavender and ylang ylang and wear as a perfume behind the ears and on the wrists and ask yourself "what is the smallest step I could take in the next twenty four hours to move closer to my goal?"
---
Special Essential Bliss readers New Year's Meditation:
Find a quiet space, sit comfortably, and connect to your breath.
Drop the following oils into the palm of your non-dominant hand:
2 drops lemon
2 drops sandalwood
1 drop Ylang Ylang
Focus on letting go of the past then the happiness of what lies ahead. Apply the essential oil bend by dipping fingers into the palm of your hand then applying clockwise movement to the solar plexus area (the "v" where the ribs meet) and say the affirmation "I am free to move forward"...
Remember skin test first and only use therapeutic grade essential oils directly on the skin. DO NOT try this with any other oil.
---
If you loved this meditation you may love the new Feelings Collection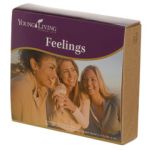 ---
Bliss Therapeutic Grade Essential Oil Of the Month...Sandalwood
History:
Used for centuries in Ayurvedic medicine for skin revitalisation, yoga and meditation. Many Indian temples were built from sandalwood. It was burnt at funerals to help free the soul in death.
Caravans loaded with sandalwood were a familiar sight along the trade routes from India to Egypt. Ancient Egyptians used it in the embalming process.
Sandalwood is frequently used in perfumes but be aware many perfumes use adulterated oil.
The trees are nearly extinct now and only used for the distillation of oil.
Main Constituents:
Santalol, Furfurol, Santalene (sesquiterpene)
Precautions:
None known, although it does have a lingering aroma so less is more.
Uses:
May be helpful in dealing with obsessional attitudes and cutting ties with the past
Use on third eye chakra during yoga or meditation
Softens the skin. Apply a drop or two directly to the skin
Is a known aphrodisiac. Annoint candles for a romantic night in
Rub onto soles of the feet as it may be a very grounding oil
Well we have come to the end of this edition of Essential Bliss. I hope you have enjoyed reading it as much as I have enjoyed writing it...
If you like this e-zine, please do a friend and me a big favour and "pay it forward."
If a friend DID forward this to you and if you like what you read, please subscribe by visiting my subscription page.
Thanks!
In the meantime don't forget to visit my contact page if you have any questions or comments or to book for my special 25 percent off offer.
Also, if you would like to find out more about therapeutic grade essential oils, please contact me and I would be happy to discuss with you further.
Til next time!
Disclaimer: The entire contents of this newsletter and the website essential-oil-goddess.com are based upon the opinions of Jen Gallagher, unless otherwise noted. This information is not intended to replace a one-on-one relationship with a qualified health care professional and is not intended as medical advice. It is intended as a sharing of knowledge and information from the research and experience of Jen Gallagher, who encourages you to make your own health care decisions based upon your research and in partnership with a qualified health care professional.