Raindrop Technique
Essential Oil Goddess specialises in Raindrop Technique - a master technique, combining ancient Egyptian, Tibetan and Native American body work practices with modern massage techniques.
The technique was developed by naturopath D. Gary Young due to research showing that many forms of spinal misalignments are caused by muscle spasms and inflammation-producing bacteria and viruses that reside along the spine.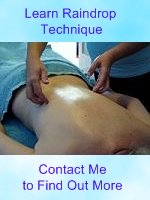 It is suitable for people (and animals) of all ages.
This is so much more than a massage! Imagine the sensation of sinking into a deep and blissful state of rest, as you feet are gently massaged and revitalised using ancient Tibetan reflexology.
As you slowly, even reluctantly, come back to your body and roll over, the gentle splashes of therapeutic grade essential oils fall like raindrops up your spine and over your tired muscles, purifying and cleansing both body and spirit.
These specially selected oils are then "feathered in" using a spine-tingling technique inspired by the Native Americans, combined with an invigorating massage and then completed with a lymphatic drainage technique. It is common to feel energised yet calm, centred and emotionally balanced after the technique.
If think Raindrop is for you, read more in this article What To Expect for more information.
When you book a session please read Preparing for a Raindrop Technique to prepare for the session. The article has information about reducing detox symptoms (we will cover this thoroughly in your initial session), client history, helpful products to prepare and emotional rebalancing.
To find out if this technique is for you, download and read both of the above articles, and contact me with any further questions you may have. I would be happy to answer your questions :)
Each new client must complete a Client History Form. Click on the link to download and print the form. Please bring the completed form to your first session.
To make a booking contact Jen on 0401 089 233 or use the MAKE A BOOKING form below.
Return from Raindrop Technique to Essential Oil Goddess Home Page