Hi



Here's What You Will Find in This Issue:
My Book Available Now - Bonus eBooks
What's New at the Website
Upcoming Events
This Month's Exclusive Offer - How to Get a Home Diffuser at no cost and my book for f ree!(read below for full details)
FEATURE ARTICLE: Guest Article - Maintaining Health and Wellbeing With Therapeutic Grade Essential Oils During Pregnancy by Amy Marais
Cool Stuff
Gentle Baby - Therapeutic Grade "Bliss" Oil of the Month
Welcome to the July edition of essential-oil-goddess.com e-zine which aims to provide you with fun and interesting information about using essential oils in everyday life.
This month, I have a special guest discussing pregnancy and essential oils. Amy Marais, a Professional Raindrop Technique Practitioner and eight months pregnant with her second child, tells us how essential oils have made this pregnancy amazingly different - and loving it! Read her story below.
Essential Bliss is dedicated to assisting you with your essential oil and aromatherapy questions.
In keeping with the pregnancy and childbirth theme, the"Bliss" oil of the month Gentle Baby. Read on for more information about Gentle Baby essential oil.
By popular demand: This month's exclusive offer for Essential Bliss readers is a chance to get a home diffuser at no cost and a copy of my book for free - read on for more details!
I hope you enjoy this issue of Essential Bliss, I welcome your feedback! Please contact me if you have any questions or comments. Your feedback will inspire the content for future issues. If there is anything specific you would like me to answer or cover in future e-zines please let me know.
Wishing you an gentle month!
Jen
Essential Oil Goddess
PLEASE NOTE: For an easy-to-view version of this newsletter, or past issues, please visit the essential-oil-goddess.com Backissues Page.
---
My Book PLUS 2 Bonus eBooks (Limited Time Only)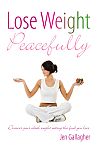 My book Lose Weight Peacefully is available now.

Each day I receive emails describing a feeling of peace and joy that someone finally understands their pain - the pain of the weight loss struggle. Read some of the testimonials below:
---
"Finally, someone is telling my story....not all the facts are the same, of course.....but so much of those early years resonates. If nothing else, I feel as though someone else understands what I have been through and in this moment, that means a great deal and brings me a sense of peace."
"Loving the book, can't believe I'm not craving food anymore!"
"This is the missing piece of the puzzle I have been looking for. I wanted a non-diet approach but didn't know where to start. Now I do. Thank you."
---
If you have ever wanted to honour your body, eat the food you love, and lose weight at the same time, then this book is for you.
LIMITED TIME ONLY: Book includes two bonus eBooks at no extra cost. Order online now.
Essential Oil Support is also included as an important part of this weight loss journey. Get your copy now to find out how.
You can order the book online at www.loseweightpeacefully.com and it will be delivered direct to your door, anywhere in the world.
---
What's New At the Website
Each month I provide you with a list of new pages at
www.essential-oil-goddess.com

Check out these new pages:
EXCLUSIVE SNEAK PREVIEW OF MY NEW SITE DESIGN AT THIS PAGE - WHAT DO YOU THINK?! Learn Egyptian Emotional Clearing Technique Full details about the Egyptian Emotional Clearing Technique. You can also complete a course enquiry (see below in Upcoming Events for confirmed course dates).
Essential Oils Questions and Problems Forum Do you have a physical, emotional or spiritual problem and want to use essential oils? Got an essential oil question you can't find the answer to? Ask your question here and Jen will answer usually within 24 hours.
---
Upcoming Events
Essential Oils for Wellbeing Playshop, Brisbane CBD
Saturday 14 August 2010
You are invited to experience a FREE session of relaxation, education and fun with therapeutic grade essential oils at our Essential Oils for Wellbeing Playshop.
Treat yourself, indulge your senses and experience the pure and potent power of these amazing oils. Touch, taste and smell your way to wellbeing and learn how to incorporate therapeutic grade essential oils into your life.
At the Essential Oils for Wellbeing Playshop you can expect to:
Have fun!
Calm your mind and body with a relaxing energy balance
Use your senses to experience therapeutic grade essential oils
Learn how to identify a therapeutic grade essential oil
Learn how to use therapeutic grade essential oils for wellbeing
Time: 9.30am-12.30pm
Venue: The Reading Room, Brisbane CBD (full directions given on confirmation of booking)
Cost: F R E E (Includes light refreshments)
Bookings: Call Jen on 0401089233 or book here.
---
Raindrop Technique and Egyptian Emotional Clearing Technique Courses
Courses in Australia, United States and expanding!

Please contact me ASAP if you are interested the following courses.
NB. Level 1 Raindrop Technique and Egyptian Emotional Clearing Technique - no prerequisites required.

Brisbane (AUS) courses:
Egyptian Emotional Clearing Technique 7-10 October 2010
Level 1 Raindrop Technique 23-25 July 2010
Level 1 Raindrop Technique 29-31 October 2010

Adelaide (AUS) course:
Level 1 Raindrop Technique 16-18 July 2010

Melbourne (AUS) course:
Level 1 Raindrop Technique 23-25 July 2010

Perth (AUS) course:
Egyptian Emotional Clearing Technique 27-30 August 2010
Level 1 Raindrop Technique 11-14 November 2010

Sydney (AUS) course:
Egyptian Emotional Clearing Technique 2-5 December 2010

For all enquiries and bookings please call Jen on +61 (0)401 089 233 or contact me.
---
Introduction to Aromatherapy - Community Education Classes (Brisbane, Australia)
This course will be held at Stafford Heights State School.
Next course: 17 August 2010
You will learn how to make your own individualised essential oil perfume and take home two starter oils. For more information click here.
---
Start Your Own Natural Health Business Class
(Brisbane, Australia)
This course will be held at Stafford Heights State School.
Next course: 24 August 2010.
Do you have a passion for natural health or contemporary therapies and want to start your own business? Not sure where or how to start? You will learn the answers to these questions and much more. For more information click here.
If you want to stay in up-to-date with all my events, join me at my official page on Facebook:
Essential Oil Goddess
Promote Your Page Too
---
Relax...Release...Replenish
As a qualified counsellor, aromatherapist and teacher, I am here to help with issues that are preventing you from moving forward in your life.

If you feel ready to work with these issues many people report feeling "emotionally lighter" after a session.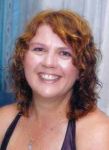 If you...
want to get to core issues quickly and gently
need someone who will understand what you need, whether it is mind, body or soul, and use this as the basis for the session
are looking for a gentle process using a range of therapies
want to take home some strategies you can use to move forward in your life
have physical symptoms and are not sure if there are underlying emotional issues
...then working me, a qualified counsellor and aromatherapist may be just what you need.
---
This Month's Exclusive Offer...
Due to Popular Demand!
Exclusive to Essential Bliss readers, I am offering you a copy of my book Lose Weight Peacefully at no cost - if you join the Young Living Essential Rewards Program.

If you have wanted to join Young Living and get the best essential oils in the world, but have been putting it off - now is the time! Go to the Young Living Website, choose your country and browse the many essential oils, nutrition (I highly recommend Ning Xia Red) and other products. Choose a wholesale account (independent distributor) and place your order, including your essential rewards order. It is that easy and Young Living will send to anywhere in the world.
PS. When prompted for a sponsor number please use mine - Essential Oil Goddess 956246. Thanks!
Once I have confirmation from Young Living that you have joined the Essential Rewards program with my number I will send you a copy of my book at no cost anywhere in the world :)
A special offer for Australia only. Stay on the Essential Rewards program for a minimum of 3 months and at the end of the 3 months you will receive a home diffuser at no cost!

For more information about the services I offer click here.
This offer is for Essential Bliss readers only.
Offer expires: 31 July 2010
For help with ordering: Please call Jen on +61 (0)401 089 233 or please use this contact page.
---
Gift Vouchers are Ideal for any Occassion
Gift Vouchers are available by clicking here to give a blissful and unique present for yourself or loved one for any occassion.
---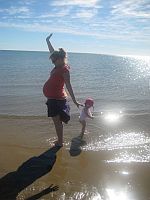 Feature Article...
Maintaining Health and Wellbeing During Pregnancy with Therapeutic Grade Essential Oils by Amy Marais - Guest Author
When Jen from Essential Oil Goddess approached me and asked if Iíd like to write about using essential oils during my 2nd pregnancy, I jumped at the chance.

It has been my experience that a lot of people will usually run a mile when you mention pregnancy and essential oils together! I am so grateful to have this opportunity to spread the word on how beautiful Young Living Essential Oils and their other products are to use while pregnant! It has been a great pregnancy this time round.

My first pregnancy was completely different. I had not been introduced to Young Living yet and all of my aromatherapy and natural health books told me to not use any oils during pregnancy. So like many people I avoided using any oils during my first pregnancy.

Instead, I tried most of the pregnancy multivitamins that are on the market, took them as directed and found that a couple of them made me feel sick, nauseous, dry reach or vomit (although I didnít get morning sickness at all). I thought ďWow how can a multivitamin make you sick when they are supposed to help you.Ē After having my daughter I strived to do research and find pure and natural products for her and my family and for my next pregnancy.

Thatís when I found Young Living Essential Oils and Natural Products infused with natureís goodness. I can honestly say that my life has changed in such an amazing way. I am surrounded by health, happiness and purpose and have never looked back.

As part of my life changing journey, I have completed my Level 2 Certificate in Professional Raindrop Technique and run my natural therapy business (Naturally Joyous) from home.

Now, I am also in my eight month of my second pregnancy and I have felt so much more energetic, alive, pain free and healthy than ever (and Iím running around after an 18 month old!).

Here's how Young Living Essential Oils have changed the way I use essential oils during pregnancy:

Every morning after a shower I rub Gentle Baby* on my tummy and bottom (and anywhere I feel Iím putting on baby weight) mixed with Young Livingís V6* oil (or any other good quality vegetable oil) I use about 7-9 drops of vegetable oil to 4-5 drops of Gentle Baby. This is such a lovely and soothing oil. I find it very relaxing and comforting and great for reducing stress during pregnancy.

Gentle Baby also helps me with stretch marks and scar tissue, while rejuvenating the skin, improving elasticity & even helps reduce wrinkles. (When buba is born, I will also use it to help with nappy rash).

Gentle Baby consists of geranium, rosewood, lemon, lavender, jasmine, roman chamomile, bergamot, ylang ylang, palmarosa & lovely rose.

A couple of days ago during my antenatal appointment, I was very pleased to hear my midwife comment on how smooth and stretch mark free my belly was! Thanks to my oils, the three stretch marks that I acquired during my first pregnancy have disappeared!

I also have been rubbing a couple of drops of Young Living lemon essential oil on my thighs and knees to help reduce fluid retention (which I suffered with during my first pregnancy) and stretch marks. The spider vein that appeared after my first baby has dramatically decreased, which I am thrilled about. I love lemon oil!

Most nights I also put a couple of drops of Valor* on my belly before bed. This helps balance my energy helping the body to self-correct its balance and alignment. It is such a harmonising nurturing oil with the ingredients rosewood, blue tansy, frankincense, spruce and sweet almond oil.

Instead of taking a "pregnancy multi-vitamin" this time and feeling sick, I have been having 30mL (1 fl oz) of yummy NingXia Red daily. This is a delicious, yet powerful antioxidant drink, that helps support immune function, liver function, eye health and increases energy (which I definitely need at the moment!) The main ingredient is the NingXia wolfberry, which is sourced only from the NingXia Provence in Northern China.

NingXia wolfberries contain 18 amino acids and 21 trace minerals, these include calcium, magnesium, potassium, copper, zinc and manganese Ė which are all vital during pregnancy.

Wolfberries contain more beta carotene than carrots, 3 times the vitamin C than raw oranges, 67 times the vitamin B1 of brown rice, along with vitamin E, Vitamins B2, B3 & B6. Wolfberries provide loads of fibreófive times more than oatmeal bread!

Along with the wolfberries, NingXia Red also contains all of the essential super foods. These include blueberries, pomegranates, raspberries, apricots and dark grapes. It is also infused with extra Vitamin C and lemon and orange therapeutic grade essential oils.

There have been so many benefits for meóI call it "My yummy berry liquid natural multivitamin!"

It feels good to know that Iím not putting any synthetic chemicals or artificial vitamins and minerals into my body. It was actually interesting to learn that some multivitamins provide little tangible benefit since your body may only absorb a tiny fraction of synthetic nutrients.

The last essential oil blend I have to mention is Peace and Calming*. Without this oil who knows what state I would be in! As one of my favorite oils, it is extremely relaxing and indulgent, when you smell this oil it sends you into another world altogether. It helps to relieve anxiousness and tension. Fantastic when you are running around after an energetic, unreasoning and stubborn little adorable toddler!

It is now very close to the birth of my second child, and I canít wait to introduce him or her to the outside world of essential oils. This pregnancy has been an amazing blessing with Young Living Essential Oils.

I would love to hear from anyone has any questions about using oils while pregnant or if you would love to experience a blissful Raindrop Technique with me. I am located in Petrie, Brisbane.

My phone number is +61(0)405 377 298 or please contact me via my website at www.naturallyjoyous.com

Important: Jen and Amy only use and recommend Young Living Essential Oils. All the information above is based on using Young Living Essential Oil - The World Leaders in Essential Oils. *Young Living Essential Oil Blend.
---
EXCLUSIVE: Pregnancy Bliss Recipes (or anytime really!).
Only for Essential Bliss readers.
Strech Marks
Myrrh
Lavender
Lemon

Nausea

Ginger
Peppermint
Nutmeg (caution in Pregnancy)

Gentle Baby (you can also use the blend Gentle Baby*)

Lavender
Rosewood
If applying to skin: Remember skin test first and only use therapeutic grade essential oils directly on the skin. DO NOT try this with any other oil.
Please check with health care professional and/or consult the Essential Oils Desk Reference for safety information.
PLEASE NOTE: I only use pure therapeutic grade essential oil from Young Living and the recipes above are based on Young Living Essential Oils. You can order from my store or contact me for more information.
---
Cool Stuff...
For all the latest information, updates and special tips, join me on Facebook:
Essential Oil Goddess
Promote Your Page Too
---
Do you have a health issue or something going on in your life and want to see what oils other people are using?
There is a fantastic website called Oil Testimonials.
I highly recommend this website! You can search testimonials and you can even have a look at the testimonials I have added or join (free registration) and add your own testimonials.
---
Are you wondering how I built my website and sent my e-zine? I did it all myself with no prior technical skills! The secret is Site Build It!
I love working from home, you can find out more below. SBI! is an educational system so you can do it all yourself.

---
Gentle Baby: Bliss Therapeutic Grade Essential Oil Of the Month
Introduction: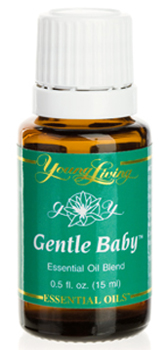 Gentle Baby essential oil is a blend of essential oils suitable for use during pregnancy and for babies.
The Essential Oils Desk Reference
states that Gentle Baby "states that Gentle Baby "comforting, soothing, relaxing and beneficial for reducing stress in pregnancy...It is particularly soothing to dry, chapped skin and diaper rash.
'It can be used for massage throughout the entire pregnancy for relieving stress and anxiety, and to prevent scarring and creating serenity. Massage on the perineum to help it strectch for easier birthing."
It is also an essential oil blend that can be used by anyone, young or old, male or female. It is beautiful to support any skin condition.
Ingredients:
Geranium, Rowewood, Lemon, Lavender, Jasmine, Roman Chamomile, Bergamot, Ylang Ylang, Palmarosa.
Precautions:
None known.
Uses:
Carolyn L. Mein's Releasing Emotional Patterns with Essential Oils
is a great reference for emotions. Gentle Baby helps support the emotions of:
Stress
Needing Comfort
Anxiety
For me, Gentle Baby is one of the best essential oil blends I have found for wrinkles. It is very relaxing to put a drop or two on the face before sleep and contains many skin regenerating oils.
I would recommend Gentle Baby to anyone who is pregnant, had a baby, wants to work on scars, stretch marks or other marks on the body. Enjoy this beautiful smelling oil with rejuvenating properties.
Well we have come to the end of this edition of Essential Bliss. I hope you have enjoyed reading it as much as I have enjoyed writing it...
If you liked this ezine, you are welcome to forward to friends. Thank You.
If a friend DID forward this to you and if you like what you read, please subscribe by visiting my subscription page.
Thanks!
In the meantime don't forget to visit my contact page if you have any questions, comments or to enquire about my special offer.
Also, if you would like to find out more about therapeutic grade essential oils, please contact me and I would be happy to discuss with you further.
Til next time!
Disclaimer: The entire contents of this newsletter and the website essential-oil-goddess.com are based upon the opinions of Jen Gallagher, unless otherwise noted. This information is not intended to replace a one-on-one relationship with a qualified health care professional and is not intended as medical advice. It is intended as a sharing of knowledge and information from the research and experience of Jen Gallagher, who encourages you to make your own health care decisions based upon your research and in partnership with a qualified health care professional.
© Copyright - Essential Oil Goddess & essential-oil-goddess.com
Jen is an independent distributor 956246.