Hi



Finally, the eBook is here. Just in time for the holidays! See below for some bonus recipes from the book. Also, have you ever thought about building your own aromatherapy business? I am looking for two people to work with in 2013 who are ready for the "leap" to change their lives forever and create a dream business. Scroll down for further information.

I would also like to take this opportunity to wish you all the merriest Christmas ever and an amazingly abundant 2013.

Love and scents always
Jen
Essential Oil Goddess

Here's What You Will Find in This Issue:
It's Here - An Aromatic Life eBook - Get it Now!
Do you want an aromatic life? Are you looking for a book to get you started with essential oils? Do you need some new ideas for everyday essential oil uses? Do you want to make your own natural health remedies and beauty products? Read more>>>

Feature Article: Top Recipes from An Aromatic Life eBook

Do you live a natural lifestyle? Whether your answer is yes or no, you will find within these pages an amazing introduction to the world of essential oils. You will learn how you can simplify your life, and how you can create a sanctuary of calm and healing for yourself, and those you love. All you need on a day-to-day basis is a collection of essential oils, supplemented with a few natural basics.

One of the simplest ways you can use essential oils is to add them to a cold air diffuser. Your home will smell amazing and you and your family will receive the wonderful therapeutic benefits essential oils have to offer. These benefits support the mind, body and soul. Using an aromatherapy diffuser is a beautiful way to transform your surroundings.

Creativity
Find inspiration and create your best by working from the heart.
2 drops ginger essential oil
2 drops orange essential oil
2 drops lemongrass essential oil
Peace and Calming
4-6 drops Peace & Calming* essential oil blend.
You can enhance this diffusion by adding one or more of the following essential oils:
Lavender essential oil
Bergamot essential oil
Jasmine essential oil
Release* essential oil blend
Surrender* essential oil blend
Imagine never having to buy a beauty product again! You can make your own natural and chemical-free skin care products, moisturisers, cleansers, toners, and body lotions, to name but a few. What's more, they are easy to make, comparatively low cost, and keep your skin glowing, healthy and radiant!

Essential oils have simplified my life and helped me to create a "goddess" approach to beauty and body care. I immerse myself in essential oil products every day. All I need are a few base ingredients, combined with the essential oils that are suitable for my skin and hair type. Then I am ready to make and use my personalised Goddess beauty and body care products.

Spearmint Lemon Facial Scrub

1tblsp raw, organic oatmeal (or blended raw, organic, rolled oats)
1 drop lemon essential oil
1 drop spearmint essential oil
Add a little purified water, mix ingredients together, and gently massage onto your face. Rinse off with warm water.

Lavender Peppermint Facial Toner
Refreshing and toning to the skin. Suitable for all skin types.
A few drops of organic apple cider vinegar (optional—this helps to emulsify the essential oils.)
8 drops lavender essential oil
2 drops peppermint essential oil
Place essential oil and apple cider vinegar in a 100mL glass spray bottle. Top up with purified water. Shake gently to mix. If you don't use the apple cider vinegar you will need to shake the bottle each time before use. Buy the eBook Now>>>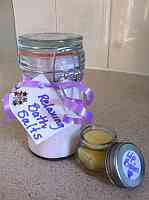 Want Even More Recipes?
Then head on over to the Essential Oil Goddess Facebook Page and like our page.

Once I reach 3000 likes, I will be releasing the recipes for my *Sexy* Cinnamon Lip Balm (as named by my husband ;) and Relaxing Bath Salts Recipe, so please spread the word and help me get there. You will LOVE the recipes. So easy...and they make terrific presents.

These recipes will be EXCLUSIVE to my Facebook likers, so do yourself a favour and join us on Facebook for these recipes and so much more!

Questions and Answers about Essential Oils
Kait asks "How do I subsitute water instead of carrier oil in essential oil blends?" Read more>>>

Jan has had a mishap with blending her essential oils and asks if there is a way to neutralise the blend. Read more>>>

Anonymous asks "Which essential oil blends are good for blood sugar?" Read more>>>

Do You Want to Partner with Essential Oil Goddess to Create a Dream Business?

Four years ago I left my secure government job to pursue the "job of my dreams" but I discovered so much more! I discovered a passion for living!
What if you could enjoy:
Greater Time Freedom?
Optimal Health?
A More Significant Life?
I am ready to help two people who:
Have a passion for natural health and are ready for the rewards of building their own successful business.
Looking for a career change and love natural health.
Are already in natural health (eg. naturopath, massage therapist, accupuncturist etc).
Want to work part time and be there for their family.
You are probably wondering "what's the catch?" Well, yes there is one catch! I am asking you to join my team and use the best essential oil, essential oil nutrition, natural cleaning and skin care products from the world leaders! You will become the role model and expert that people will go to because they want to know more!
I have partnered with people from all walks of life and are now running their own successful business. So if you would like to discover your potential for creating a dream business, please contact me via my details below and tell me a little about yourself and why you think partnering with me is the change you are looking for in 2013.
We can then set up a no cost 15 minute "discovery session" (face-to-face or Skype/phone) to see if you and I are a great fit in business. I look forward to hearing from you.

Connect with Me

If I can help you in any way, please connect with me:
Via the contact page.
Send a message via my personal Facebook page.
Skype: jengallagher.au
Connect with me via the Essential Oil Goddess Facebook Page
I look forward to hearing from you.
Jen
Essential Oil Goddess

Jen is a qualified aromatherapist, teacher and counsellor. She is the author of An Aromatic Life: Natural Lifestyles using Essential Oils. Start your journey to vitality, beauty and abundance today. Jen is also the author of Lose Weight Peacefully, a book to help you find peace with food, feelings and life--and lose weight at the same time.

*Jen uses and recommends Young Living Essential Oils due to the purity, potency and amazing results they provide. Young Living Essential Oils are also distilled in food grade distillers and bottled in food grade bottles. Jen is independent distributor 956246. The information in this eZine reflects personal experiences only. It's not intended and shouldn't be relied upon as a substitute for medical diagnosis, advice or treatment. Use only guaranteed pure, unadulterated, therapeutic-grade essential oils, and follow the directions of the manufacturer.