Hi



Welcome to this edition of Essential Bliss. What an amazing time it has been for me! The book An Aromatic Life is here! It contains all my secret recipes and many more from six other amazing authors! See below to attend the book launch or pre-order a copy today!

If you are in Brisbane and would like to join me TONIGHT at Food, Sex & Dreams Networking Event. We mingle, we nibble, we drink, we chat :) Women only event. I will be the special guest exhibitor. 7.30 - 9.00pm, Lightworker's Venue, 152 James St New Farm - $15 entry (cash on the night). Bring your flyers & business cards for the networking table!

I look forward to seeing you there Jenxx

Here's What You Will Find in This Issue:
An Aromatic Life Book Launch
You are Invited to An Aromatic Life: Natural Lifestyles using Essential Oils Book Launch. Jen Gallagher with Jennifer Hunt, Kate Jess, Naveen Light, Amy Marais, Lorna Russell and Robyn M. Schow invite you to a night of celebration, aromatic experiences and fun!
Be one of the first to experience this life-changing book!
Learn, as each author demonstrates one of their favourite essential oil recipes from the book.
Experience the power of natural, plant-based lifestyles.
Sample some amazing therapeutic-grade essential oils.
Have a Ning Xia Red cocktail at the Ning Xia Red Bar.
Yummy organic and vegan nibbles provided.
Get your book signed by the authors.
Date: Monday 21 November 2011
Time: 7pm to 9pm
Venue: Geebung State School Hall, 250 Newman Rd, Geebung, Brisbane, Australia.

Bookings Essential - Reserve Your Place Now! Book now via my contact page>>>

Essential Oil Goddess Day Retreat - Sunshine Coast
You are invited to join us for a day of relaxation and discovery at the Essential Oil Goddess Day Retreat to replenish and inspire you with new experiences. Also, you how to make your own natural and chemical free beauty products, perfume, and healing remedies--perfect for Christmas presents!
Date: Sunday 20 November 2011 Read more>>>

Goddess of Magic Day Retreat - Gold Coast
Jen Gallagher partners with Jenni Madison from Coconut Magic to teach you how to make your own natural and chemical free beauty products, perfume, healing remedies, (perfect for Christmas presents!) and enjoy the calm relaxation of an aromatherapy meditation.
Date: Sunday 20 November 2011 Read more>>>

An Aromatic Life--Recipes to Share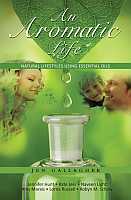 With the launch of An Aromatic Life just around the corner, I thought I would share some recipes from the book. The book has been compiled by me and written with six other amazing authors, all bringing their unique gifts to the essential oil world.
Now I am sharing a little sneak peek with you!
From my chapter, Diffusing for a Healthy Home: Morning Pep Up. Diffuse this blend while getting ready for the day, while readying the kids for school, or preparing for work. Get going for the day with these stimulating and clarifying oils.
2 drops peppermint essential oil
4 drops lemon essential oil
2 drops lemongrass essential oil
From Chapter 3, Essential Aid by Jennifer Hunt, BSc, Naturopath: Stress and Nervous Tension. When life becomes stressful, effective stress management strategies are essential for reducing symptoms and speeding recovery.
2 drops Valor*
2 drops Joy*
2 drops Gentle Baby*
Apply neat to temples, chest and shoulders, add to bath water; diffuse 20-30 mins 3 times daily or inhale directly.

If you would like to purchase the book, An Aromatic Life, I have arranged a special, pre-order price for you. Please go to this page to place your pre-order. Books will be dispatched after 21 November 2011. If you have any questions or comments, please connect with me via one of the ways below. I would love to hear from you.

If I can help you in any way, please connect with me:
Via the contact page.
Send a message via my personal Facebook page.
Skype: jengallagher.au
Connect with me via the Essential Oil Goddess Facebook Page
I look forward to hearing from you.
Jen
Essential Oil Goddess

Jen is also the author of Lose Weight Peacefully, a book to help you find peace with food, feelings and life. For more information, please visit www.loseweightpeacefully.com

*Young Living Essential Oil blend. Jen uses and recommends Young Living Essential Oils due to the purity, potency and amazing results they provide. Jen is independent distributor 956246.