Raw Carrot Cake with Orange and Lemon Essential Oil
by Kristine Matheson
(Gold Coast, Australia)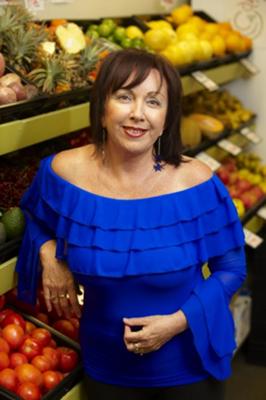 Kristine Matheson - Author of
Raw Carrot Cake with Lemon and Orange Essential Oil
For cake
2 1/2 cups ground Brazil nuts
2 1/2 cups meat from young coconut meat, minced or
2 1/2 cups of desiccated coconut
1/2 cup coconut flour – you can replace this with another cup of coconut meat if you wish
1 1/2 cups carrot juice
2 cups carrot pulp (left over from juice)
1/2 cup raw agave juice
1/8 cup grated ginger
2 tbsp psyllium
1 1/2 tsp ground cinnamon
1/2 tsp ground cardamom
1 tsp nutmeg
1/2 cup sultanas

For raw icing
1 1/2 cups cashews soaked for min 2 hours
1 cup orange juice or water
2-3 pitted dates
1 tbsp orange rind or 1tsp therapeutic food grade essential oil (FSANZ (AU) FDA (USA) food compliant essential oil)
1 tbsp lemon rind or 1 tsp therapeutic food grade essential oil (FSANZ (AU) FDA (USA) food compliant essential oil)
1 tbsp coconut oil
1 tsp pure vanilla essence (optional)

Method:



Blend all ingredients together leaving sultanas and psyllium until the end.


Spoon all ingredients into a spring form tin pressing tightly down on the mixture and place in refrigerator whilst making icing.


Blend on high speed your icing ingredients until smooth.


Take cake out of container and place on serving plate and top with icing.


Tip:
Line bottom of cake tin with coconut to prevent cake from sticking.
Kristine Matheson author of
From Cancer to Wellness: the forgotten secrets
,
Cancer to Wellness Cookbook
, soon to be released
Raw is More Recipe Book
and a featured contributing author of Olivia Newton-John's
Livwise Cookbook
. She is the co-founder of The Forgotten Secrets Foundation, which supports holistic education to prevent disease and relieve sickness.
She is a cancer survivor, natural health advocate, seminar and workshop facilitator, raw food guru and coach, Reiki practitioner, Angel intuitive, artist, designer and motivational/inspirational speaker.
Jen suggests using Young Living Essential Oils only in food as they are distilled in food grade distillers and bottled in food grade bottles with no chemicals added from seed to seal. DO NOT ingest any other essential without checking whether it is food grade and grown and bottled without ANY chemicals or preservatives. Please visit
my store
for more information.