Essential Oil and Herbs for 
Gourmet Cooking
I love gourmet cooking! Using an essential oil and herbs in a recipe enhances the quality of the meal. In fact, I prefer to use essential oils for increased therapeutic benefit. Herbs make a lovely presentation on the plate and most are able to be eaten raw.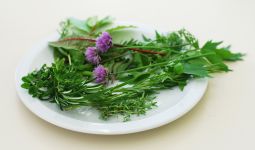 Go to the Essential Oil Cooking Forum and add your favourite essential oil recipe now.
Read essential oil recipe contributions now.
Every goddess who loves gourmet cooking should be adding at least one essential oil and herbs to their main meal. Essential oils and herbs bring out the aroma and make your taste buds soar! Not to mention the therapeutic benefit of essential oils! Of course, if you are going to eat it, don't fool around with cheap essential oils. Pure, organic, and therapeutic is what we are looking for.
To check if an essential oil is suitable, go to this page and check my list of questions to assess your essential oil.
If the essential oil bottle does not contain all the relevant information, do not use it for cooking.
So how do you use essential oil and herbs in cooking? Very sparingly! Remember, essential oils are concentrated. For example, 1000kg of thyme plant material produces approximately 200mL of essential oil! This also accounts for some of the price differences between essential oils. Some produce significantly more oil and some produce less. These are the most expensive.
The number one rule for recipes using essential oils is to use minimal amounts. 1-2 drops is usually enough for adding or replacing herbs. Drop onto a spoon first to avoid adding too much in the recipe. For strong tasting essential oils (eg. basil, sage, oregano, rosemary), use a toothpick and dip into the bottle. Swirl the toothpick through the food.
Essential oils and herbs make meals healthy and tasty. If you can, grow you own herbs. I have my herbs growing in a herb pot just outside the door. It is easy to go out, cut and then add to a recipe.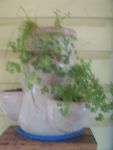 Remember, herbs are best for decoration and most are able to be eaten raw.
Essential oils and herbs for gourmet cooking can be added to any recipe - sweet or savoury. Of course, some are more suitable to one or the other. Some are easy to use in both sweet and savoury recipes.
Be careful when you add the oils. Essential oils are extremely volatile. Don't add essential oils and cook it for hours for the same reason I don't use an oil burner. It may alter the chemical constituents of the essential oil and it will lose all its therapeutic benefits.
So rule number 2 is...recipes using essential oils must add the essential oil towards the end of cooking for best aroma and taste. This helps to keep as much of the therapeutic quality as possible.
OK, now we know the "how" and "when" for gourmet cooking using essential oils and herbs. We just need the "what" oils for "what" recipes! Here are my top 10 essential oils and herbs for cooking (use both essential oils and herbs if you can):
Lemon can be added to cakes, stir through muesli in the morning, add to juices. Remember the old remedy your gran used to make when you had a cold? Lemon and honey. Try adding a couple of drops of lemon essential oil to enhance the blend.
Black Pepper can be added to dips, sauces, soups. My favourite way to use black pepper essential oil is to mash an avocado, add a drop of lemon and black pepper oil, mix and serve on toast. Easy! Did you know black pepper helps to aid digestion and assists with elimination of toxins. Fantastic for losing excess fat!
Peppermint can be added to anything chocolate to give a choc-mint flavour! Yummy! A couple of drops of peppermint essential oil in a cool glass of water is very refreshing and energising. Peppermint water may counteract sweet cravings too. Try it! Try adding some slices of fresh lemon too!
Oregano essential oil for the Italian food lover! I add a drop or two in a tomato sauce base to serve with pasta. A drop on a toothpick and swirled around on the base of a pizza is great. Add to pesto or other herb based sauce. Delicious!
Orange just like lemon essential oil, it can be added to cakes, muesli and juice. Try a mix of orange essential oil and lemon essential oil. For a jaffa taste, add orange essential oil to anything chocolate! A couple of drops in a glass of water is very tasty and gives you a lift. Add some fresh orange slices to the water for added appeal!
Ginger essential oil is very versatile. It can be used for sweet or savoury foods. For savoury, add to soups, stir-fry (authentic Asian taste!) or other Asian food. For sweet try adding to chocolate sauces, biscuits and jam.
Cinnamon Bark essential oil can be added to cakes, biscuits, and juices. It may also be added to chocolate recipes for a luxurious treat!
Basil essential oil is great for Italian food too! It also tastes great mixed with an avocado and a couple of drops of lemon too. Add to soups and other savoury dishes. Very nice added to sauces. Freshly torn basil sprinkled onto a pizza just before serving is one of my favourites! Great use of essential oils and herbs!
Sage esential oil is a fantastic all-rounder for savoury dishes. Add to sauces, burger mixes (especially my favourite vege burger mix!), and soup for a taste sensation. Be creative - add to any existing savoury recipe that calls for herbs or spices. Use fresh sprigs for any savoury meal. Gourmet cooking at its best! This is another example where you can use essential oil and herbs together to enhance the flavour of the meal.
Grapefruit essential oil is great for a recipe that requires a citrus taste. Add to punch, jelly, or to a favourite fresh juice for extra zing. It is also great to add to water and may help to control appetite. So there you have it - my top ten essential oil and herbs (and fruit!) for gourmet cooking. I highly recommend using at least one essential oil and herbs as needed to your main meal.
What do you think? Can you see new potential for that boring soup, salad dressing or juice? There are plenty of other types of essential oil and herbs that may be used for cooking - of course the essential oils must be pure!
If you would like a complete list of essential oils that are suitable for cooking, please use the form below and contact me. If you have any favourite recipes using essential oils and herbs, I would love to hear from you!
Essential oil and herbs are the ultimate combination!
» You can see my passion for essential oil and herbs for gourmet cooking. Check this out to create your own passion!
Do You Have a Great Recipe Using Essential Oils?
Have you added essential oils to your cooking and had fantastic results? We would love you to share it! You may even get some feedback about how yummy it was!
Other Visitors Recipes
Click below to see recipe contributions from other visitors to this page...


Return from Essential Oil and Herbs Cooking to Essential Oil Goddess Home Page