Emotional Clearing Technique Retreat
A Day of Education, Pampering and Relaxation!
This Emotional Clearing Technique event is by exclusive invitation only.
If you haven't received an invitation, please contact me for more information. 
Based on an ancient Egyptian ritual for "Cleansing the Spirit", the Emotional Clearing Technique can be used on its own or to bring a new dimension to any other modality. Experience profound relaxation as you are anointed with sacred oil blends for emotional transformation. The deeply relaxing effects of gentle Energy techniques transport you to a heightened state of awareness, as the sweet aromas of the essential oils stimulate memories and emotions, and clarity.
At the Emotional Clearing Technique (ECT) Retreat you can expect to:
Learn the history, core principles, emotional benefits and safety protocols of ECT.
Receive an overview of the essential oils used in ECT.
Learn how to modify your ECT for different health conditions to perform the technique on family and friends.
Give and receive a ECT on the day.
PLEASE NOTE: This retreat is to give an overview of a general ECT and experience one for yourself. It is not a professional course.
YOU WILL NEED TO BRING:
Pen and paper
3 large towels
2 hand (or small) towels
1 sheet 
Tissues
Pillow (optional)
Your own food and snacks for the day
Bottle of water
Massage table (if you have one – please advise)
About the Presenter
Jen Gallagher – Essential Oil Goddess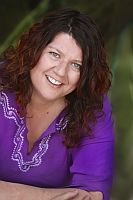 Jen is an author, professional aromatherapist, teacher and counsellor. She is also a Level 2 professional practitioner in  Raindrop Technique and Egyptian Emotional Clearing Technique. Jen empowers people to use the purest and natural essential oils for themselves, their families and their pets for their own health, beauty and wellbeing. Jen works from aromatic medicine principles and believes that using high quality essential oils gives high quality and rapid results. This is the work of the goddess! 
Day Retreat Details
You have the choice of Saturday OR Sunday:
| | | | |
| --- | --- | --- | --- |
| City | Venue | Date | Time |
| Cairns | Cairns Spiritual Centre, 1/194 Spence St, Cairns | Sunday 18 March, 2012 | 9.30am-4.00pm |
Your Investment:
Normally: $167 Early Bird Special $75 
Extra Bonus: Would you like to pay $55 for the retreat and have your own Emotional Clearing Kit to use for approximately 10 more sessions after the retreat?! Pay for an Emotional Clearing ("Feelings") Kit before the retreat and use it on  the day and the cost of the retreat is $55.  (If you choose this option, a local representative will be in touch shortly after payment).
Your Day Includes:
FREE comprehensive resource notes.
FREE samples of essential oils and tutorials all day. 
A full Emotional Clearing session.
Instruction for a full Emotional Clearing Technique session.
ALL resources and essential oils used on the day. 
Choose the $55 payment option and all resources are included except during your Emotional Clearing session - you will use your own Kit.
Book Now - Very Limited Places
Payment Options:
1. Paypal payment: Paypal accepts credit card, debit card and direct debit from your bank account. Please enter your details below and you will be re-directed to the secure Paypal payment page.
2. Cash payment: Deposit at any Westpac Bank. Please contact me for bank deposit details.
Conditions: Your reservation for the Day Retreat is confirmed upon receipt of payment. We regret that we are unable to give refunds or credits should you need to cancel for any reason. You are welcome to transfer your registration and nominate another lucky person who would love a day of pampering to attend in your place.

Return from Emotional Clearing Technique to Essential Oil Goddess Home Page