Celebrate With Neroli Essential Oil
Neroli essential oil is the perfect oil for any celebration. If you are planning a wedding, baby naming, commitment, renewal of vows, or other celebration, imagine the aromas and the emotions when pure essential oils are part of the ceremony.
The oil was named after Princess Anne-Marie of Neroli who used the oil as a perfume. Neroli essential oil is made from orange flower petals and has been long known for its use in wedding bouquets.
Neroli is a treasured oil because it is very expensive to make. It takes a huge amount of orange blossoms to make a tiny amount of oil.
For this reason you will rarely see pure, unadulterated neroli essential oil. Neroli may be adulterated with orange and/or petitgrain essential oil. Check the bottle with my criteria for pure oil. If it doesn't meet the criteria, chances are it is adulterated or cut.
In Australia, I have yet to see pure, unaulterated neroli essential oil that meets my critera. If you are in Australia, there are some fantastic oil blends that contain neroli.
Here are the substitutes:
Present Time is an empowering fragrance that creates a feeling of being in the moment. This oil blend empowers you and your partner to move forward together.
Acceptance stimulates the mind and opens us up to new relationships allowing us to reach our full potential as a partnership.
Awaken enhances inner self knowledge to reach the highest potential. Helps open up to our true and complete selves.
Humility "To become truly great, one has to stand with people, not above them." ~ Charles de Montesquieu ~ French Politician and Philosopher, 1689-1755. This oil blend helps to give us understanding of each other and a partnership based on being equal.
These blends are only sold by Young Living. Find out more here.
If you have access to therapeutic grade neroli essential oil, use it with these blends. It will take your ceremony to a new level!
Neroli has an aroma that will stay with you long after the event. Essential oils have the potential to enter the limbic system of the brain, where memories and emotions linked to them are stored. No wonder when you inhale the aroma it will take you instantly back to that special day.
Weddings and Commitment Ceremonies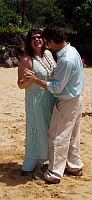 After the flowers have long gone and the dress is packed away, remembering the aroma and feeling the connection to your special day will be perfect everytime. The essential oils will be precious to you and your partner forever.
My beautiful partner and I got married in Hawaii on 30 September 2009. Left is a photo of our beach wedding dance at Makena Cove, Maui, Hawaii.
This is the way we used the oils during our ceremony:
Have the essential oils on a silver or other special plate.
As the ceremony begins, and we are ready to make the commitment together, we dropped Present Time onto each other's heart chakras.
At this time we passed around Awaken for the guests to place one drop on each wrist. (If you have a large number of guests you may just want to pass it around the wedding party or family members or whoever you choose!).
Then we annointed Humility behind each other's ears at the time of saying the vows.
Next we placed one drop of Acceptance on each others wrist after exchanging rings.
If you have therapeutic grade neroli essential oil, applying to the heart chakra and wrists would be where I would use it.
Of course, you will need a celebrant who is understanding of your needs and is willing to make your ceremony everything you want it to be.
In Australia, Marilyn is a professionally trained Civil Marriage Celebrant specialising in spiritual weddings, commitments, same sex commitments, renewal of vows, baby naming and more. Marry Me Marilyn will deliver your ceremony with enthusiasm, energy, humour, warmth and creativity to create YOUR perfect day. I highly recommend Marilyn!
Anytime after the ceremony, diffuse the oils or apply it to you and your partner to rekindle the love that you felt that day. Use the following affirmation while annointing each other:
"I open my heart and bliss runs through me."
Baby Naming
Neroli is one of the few oils that has no known precautions. It is non-toxic, non-sensitising and non-irritant, making it perfect for baby namings.
Of course, don't take my word for it, test the oil for yourself first. I would never use an oil that didn't meet my criteria for pure oil on a baby (or any other skin for that matter.
A beautiful way to annoint a baby during a baby naming ceremony:
Have the essential oils on a silver or other special plate
As the ceremony begins, parents can be annointed with the Humility.
During the ceremony the baby is annointed with Awaken.
Acceptance would be a lovely oil to finish with, placing a drop on the baby and a drop for the parent/s.
There are so many ways that therapeutic grade essential oils can be incorporated into any celebration.
Birthday
Easter
Christmas
Birth
Baby Shower
House Warming
Drop me a line if you have used essential oils at your celebration, I would love to add it to the list!


Return from Celebrate With Neroli Essential Oil to Essential Oil Goddess Home